The Original Schitbag™, launching now for the new season, moves the concept of a waist or hip purse into the 21st century with a unique, high-fashion design that enhances any outfit. For the first time, a hands-free, shoulder-free belt bag is sophisticated as well as practical, providing the sensuous elegance women have always wanted in a waist bag. Meticulously crafted in rich shades of velvety, optimum-quality suede, the Schitbag contours to the body and even hides flaws with its sleek lines. Hidden compartments give quick access to the tools of life, yet the purse lies flat, with a slimming effect. Ever since the awkward-looking "fanny pack" went out of style, virtually every designer has attempted a new version, but none can match the simple elegance, versatility and ease of the Schitbag, the new status purse.
Top celebrity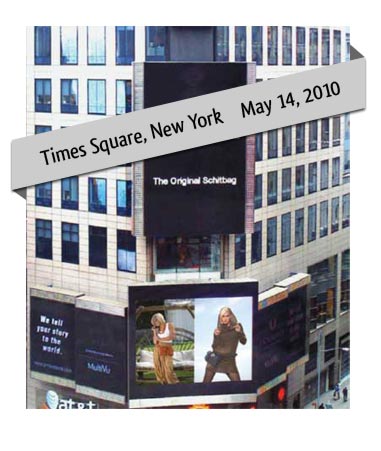 stylist Shari Geffen—who has worked with Julia Roberts, Dustin Hoffman, Shirley MacLaine, and other stars—wears her Schitbag everywhere. Says Geffen: "The design is so innovative that people come up to me on set and ask where they can get one. Even on the street, people stop to admire my unusual belted bag."
Geffen is impressed by "the way the Schitbag goes beyond function to serve as a wardrobe-enhancing accessory you can wear with trendy, upscale clothes. The Schitbag can be dressed up or down to create so many looks."
The trendsetting Schitbag imparts an image of luxury while toting your "stuff" in comfort and grace. With The Schitbag, there is a specific slot or compartment for everything. The Schitbag represents the ultimate combination of beauty, form and function. Leaving the hands and shoulders free, it is a natural asset instead of an appendage.
With the Schitbag, rummaging in an oversize bag is a thing of the past. The Schitbag is at the forefront of a trend toward smaller bags.
The Original Schitbag is produced by LeSchitté Designs.